Manufacturers & Exporters of Inconel Alloy 600 Pipes & Tubes Mumbai India
Alloy UNS N06600 Seamless Pipes & Seamless Tubes Inconel 600 in India
Inconel Alloy 600, Inconel 600 Pipes, UNS N06625 Aimed to be major industry player in the markets, we offer Inconel pipes and tubes, made from Inconel 600 which are popular for their high resistance properties of heat and corrosion.

Its unique metal constitution makes it suitable to be used in areas like pulp and paper making industry, re-heater, desulfurization system, places with high acidic gas environment, sulfur acid cooling. Inconel 600 is a nickel-chromium alloy used for applications that require corrosion and high temperature resistance.

It is non-magnetic, has excellent mechanical properties, and presents the desirable combination of high strength and good weld ability under a wide range of temperatures. These product includes tubes and pipes, Inconel 600 Pipes, Inconel 600 Tubes, Inconel Alloy 600 Seamless Pipes & Tubes etc. These inconel pipes and tubes come in multitude of lengths, thickness and dimensions to meet the requirements of different clients. Alloy 600 Inconel pipes and tubes are offered by us in appropriate packaging.
INCONEL ALLOY 600 SEAMLESS & INCONEL ALLOY 600 WELDED PIPES & TUBES SPECIFICATION:
Grade: Inconel 600 (UNS N06600)
Standard: ASME SB-167 ASME SB-829 ASME SB-775 ASME SB-725
Size: 15″NB TO 150″NB IN
Types: Seamless / ERW / Welded / Fabricated / CDW
Form: Round, Square, Rectangular, Hydraulic Etc.
End: Plain End, Beveled End, Treaded.
Length: Single Random, Double Random & Cut Length.
Inconel 600 Pipes, Inconel 600 Tubes, Alloy 600 Werkstoff Nr.2.4816 Seamless Pipes & Tubes, Inconel Alloy 600 Welded Pipes Supplier, Alloy 600 EFW / ERW Pipes & Tubes Exporter in India.
| | | | | | | | | |
| --- | --- | --- | --- | --- | --- | --- | --- | --- |
| STANDARD | UNS | WERKSTOFF NR. | EN | OR | BS | GOST | JIS | AFNOR |
| Inconel 600 | N06600 | 2.4816 | NiCr15Fe | ЭИ868 | NA 13 | МНЖМц 28-2,5-1,5 | NCF 600 | NC15FE11M |
Equivalent designations: Inconel 600, UNS N06600, Alloy 600, NS312, NS3102, Nickelvac 600, Ferrochronin 600, DIN W. Nr. 2.4816
Product Details:
Application: Chemical process industry, heat treating fixtures, airframe components and nuclear reactors.
Product list: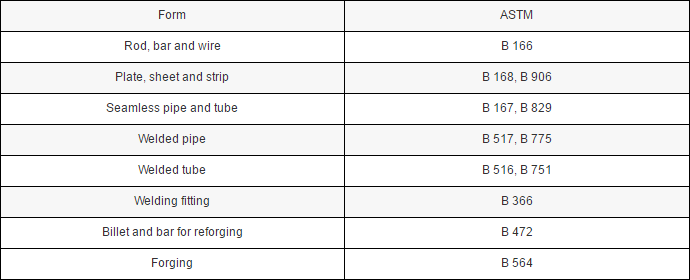 Wire: 0.01-10mm
Strip: 0.05*5.0-5.0*250mm
Bar: φ4-50mm; Length 2000-5000mm
Pipe: φ6-273mm; δ1-30mm; Length 1000-8000mm
Sheet: δ 0.8-36mm; Width 650-2000mm; Length 800-4500mm
Specification:
Model Number: Inconel 600
Brand Name: SMC
Technique: Cold Rolled
Grade: Inconel600/Alloy 600/UNS NO6600
Surface: Black/Bright (According to your request)
Delivery condition: Solution Annealed
Guarantee: We bear all the problems of product quality
Shape: Forging
Standard: ASTM ASME
Certification: ISO 9001:2008
Color: Nickel Nature
Packing: Common sea freight wooden case package/ Also can be customized
Payment: L/C,T/T
Delivery: Usually sample lead time is 7 days after payment has been confirmed.
Technical Information:
Inconel 600 has good resistance to corrosion and high temperature, and has high strength and good fabricability. It resists chloride-ion-incurred stress corrosion cracking, sulfur compounds and oxidizing conditions at high temperatures.
1. Chemical composition
2. Physical properties

Character:
Resistant to a wide range of corrosive media.
Virtually immune to chlorine ion stress corrosion cracking
Non-magnetic
Excellent mechanical properties
High strength and good weldability under a wide range of temperatures
Application: 
Chemical industry
Aerospace
Heat treating industry
Pulp and paper industry
Food processing
Nuclear Engineering
Gas turbine component
Other Types of Inconel 600 Pipes & Inconel 600 Tubes
| | |
| --- | --- |
| Inconel 600 Pipes | Inconel 600 Tubes |
| Inconel 600 Seamless Pipes | Alloy 600 Seamless Tubes |
| Inconel Alloy 600 Welded Tubes | Alloy 600 Welded Pipes |
| Alloy UNS N06600 Pipes | Inconel 600 ERW Pipes |
| Inconel Alloy 600 EFW Pipes | Inconel Alloy 600 ERW Tubes |
| UNS N06600 EFW Tubes | Inconel 600 Pipes & Tubes |